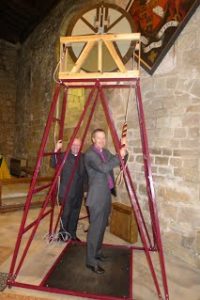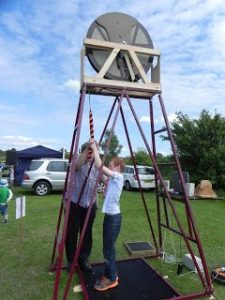 Early in 2013 the Derby DA purchased a Saxilby Simulator dumb bell which Mike Banks made a frame for to make it transportable between towers and other venues. The combined unit is known as a Wombel. This can be easily rung by both ringers and non-ringers. It has many uses such as recruitment, raising the profile of ringing and training and it can be used indoors or outdoors in fine weather. The Wombel is an impressive piece of equipment and comes with computer, speakers, extension cable and everything needed for its operation.
The Wombel is available for hire by members of the DDA to use at suitable events such as church fetes, carnivals, village shows or anywhere you think it could be used to recruit ringers or promote bell ringing. Since we acquired it has been used at numerous locations and has also been used for teaching and training at Belper, Hartshorne and Eckington giving more experienced ringers the chance to practice method ringing using Abel software. Headphones speakers and all necessary cables are supplied along with full operating instructions.
One of the slight drawbacks of the original frame meant that either a car roof rack or a van was required for transportation. Recently (2023) Mike Banks has modified the frame to allow transport by most hatch back vehicles thus making it more transportable. He also incorporated a lifting device to allow erection with less people.
Members of the Education Committee can be available to help with the erection of the Wombel and setting it up if required. It comes complete with a computer, speakers and headphones. An extension lead and circuit breaker are also available. It can be operated outside but not in the rain (there is a cover with it in case of rain). It stands just under 3.6 metres high and needs a ceiling height of 4 metres for erection. It needs a space of approx. 6 metres x 4 metres for assembly; when erected the base size is 1.9 metres x 1.2 metres.
Anyone wishing to borrow the Wombel will need to arrange transport for it, either from where it's stored (upstairs so needs to be carried down/up) in Brimington or from its previous location.
If you are interested in borrowing the Wombel for an event or would like more information about please use our enquiry form.
Current Wombel Bookings
Nothing from 9th December 2023 to 8th December 2024.