2021 is the DDA's 75th Anniversary Year.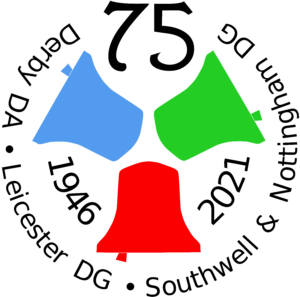 75 years ago the Midland Counties Association was split to form the:
A committee with representatives from the 3 societies has been meeting since 2018 to plan our joint celebrations.
Unfortunately most of our these activities have had to be postponed, but we will keep this page updated with ways that we can celebrate.
The DDA Annual Report for 2020 is currently being produced and will be a special 75th anniversary edition.
The LDG is kindly inviting DDA ringers to join their Monday Presentations on Zoom: leicesterdg.org.uk
75th Anniversary Merchandise: T-shirts & hoodies (choice of colour, style & size), mugs, bags, masks, aprons, jigsaws and more – 94 different products, is available from RedBubble: redbubble.com
(You may save on postage by buying several similar items at the same time, e.g. for your local band.)
RedBubble and many well-known on-line retailers will donate to the DDA BRF for FREE via EasyFundraising. Find out more and sign up here: easyfundraising.org.uk/causes/derbyda
Look out for more 75th Anniversary news in the forthcoming months.