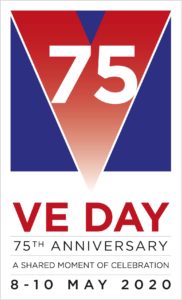 75 years ago, bell ringing in the UK had been heavily curtailed because of the war and the threat of invasion. On the 8th May, that all ended with the surrender of the German forces. 75 years later, we will be celebrating this anniversary, and all towers (where possible) have been asked to Ring Out for Peace at 7:00 pm on the 8th May 2020.
Not all towers will be able to do so, at this time, as they may not have sufficient ringers available. However, with some careful management, it should be possible for all the towers in the Chesterfield District, which are able to be rung, to do so at least once during the weekend of 8th-10th May.
If you are responsible for ringing at one of our district towers, please complete this form for towers to let us know when you are available for ringing. If you already have your own plans, please also register them on the VE 75 website.
And if you are a ringer, please complete this form for ringers to let us know when you can ring. I hope you are available to ring on at least one occasion during the weekend.
Thank you.