2021 is our 75th Anniversary: The Derby DA, Leicester DG and Southwell & Nottingham DG were all formed 75 years ago from the old Midland Counties Association.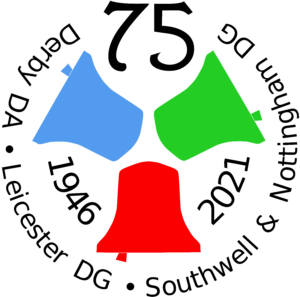 A committee of representatives from the 3 societies was set up in 2018 to plan our celebrations this year, but unfortunately much of it has had to be been postponed.
However, here are a couple things for you:
75th Anniversary Virtual Dinner on 27th February: The Leicester DG has kindly invited DDA members to their dinner on Zoom, with games, entertainment and prizes. Full details on the poster below.
To join in please contact secretary@leicesterdg.org.uk
75th Anniversary Merchandise: T-shirts & hoodies (choice of colour), mugs, bags, masks, aprons, jigsaws and more – 94 different products, is available from RedBubble via this link: https://www.redbubble.com/shop/ap/68648878?ref=studio-promote
(You may save on postage by buying several similar items at the same time, e.g. for your local band.)
Look out for more 75th Anniversary news in the forthcoming months.